Flour Mill Machine Equipment
Flour mill machine equipment is used by a lot of people these days, and cleaning is needed after long time operation. The following cleaning items should be done during inspection process: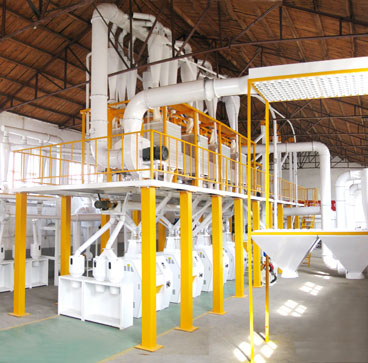 1. Flour screen: material should be scattered evenly, and check the impurities and surface of screen condition.
2. Water dampener system: check the water jet device frequently.
3. Air suction separator: check its working performance, maintain the appropriate volumn of suction air.
4. Cylinder and disc classificator: pay attention to check the screen of flour mill machine equipment conditions, and regular cleaning.
5. De-stoner: always check the degree of wear of sieve surface.
6. Wheat washer: check the water level and dryer sieve plate condition.
7. Magnetic separator: it should often clean up
8. Wheat blender: inspect and adjust it frequently, ensure the proportion of wheat to prevent the flour mill machine equipment from clogging.
9. Dampener bin: ensure wheat tempering in accordance with the stipulated time.
Flour mill machine equipment widely used is the symbol of the development of the society, keep good protection and cleaning maintenance to ensure service life extension.