The single-bin plansifter is employed in grain milling ahead of bagging for the sifting and rebolting (final sifting) of break stocks, flours, brans and intermediate mill stocks as well as for the grading of floury materials, semolinas etc.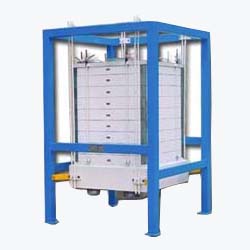 Compact design with high capacity
The small single-bin plansifter FSFJ is small and light – this means the unit can be installed even where space is limited. Despite its compact design, the plansifter achieves high throughput capacities in a minimum of space.
High flexibility through optimal adaptation to customer needs
Because the small plansifter can be adapted to fulfill a wide range of application requirements and can thus be used in a number of settings, the unit is optimally suited for adaptation to specific customer needs:
The sieve stacks are made of metal (aluminum) or wood with synthetic resin coating and are available in three versions: the HK version for standard applications in milling, a second version especially suited for the sifting of highly abrasive materials, and a third version with NOVA sieve stacks for higher capacity in the same amount of space.
The number of sieves, flow scheme, length of stroke and number of separations can be varied, providing the small plansifter with additional application possibilities.
Minimal maintenance and cleaning time thanks to robust design
Thanks to the practical design of the single-bin plansifter FSFJ, maintenance and cleaning times are reduced to a minimum:
Both the sieve pack and drive mechanism are accessible from all sides, making maintenance and cleaning significantly easier.
The NOVA combi-cleaner for the sieve cover and sieve bottom provides for efficient sieve cleaning during operation.
100% leak-proof sieve stacks prevent cross-contamination of the material.
NOVA sieves for outstanding sifting efficiency
Equipped with the NOVA generation of sieves, the small single-bin plansifter FSFJ achieves top grades in sifting efficiency: Better sive cleaning thanks to higher accelerationn and combi-cleaner are achieved while sieving capacity increases.