Energy-Efficient Flour Mill
KMEC professional manufacturer of flour mill is made on the basis of absorbing the advantages of old flour mill, using new technology, it is elaborate. It is mainly suitable for single use, but also can be used in flour plant equipped with other complete set of flour equipment. It can process wheat, corn, sorghum, cocoa, coffee, pepper, herbs and other granular materials can also be processed. While, for the large scale flour mill, it has following features: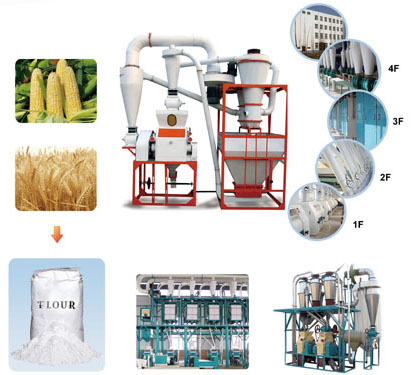 1.Reasonable compact structure, strong and durable, good appearance and excellent performance;
2.Small volume, light weight, easy installation and convenient transport;
3.Simple operation, convenient maintenance;
4.Motor supply is small, do not need to start the compensation device;
5.Energy saving, low noise, stable performance and reliable.
Our flour mill is widely sold in central Asia, Africa and South America, it is small investment, cost-effective. The most advantage is easy to operate, stable performance and suitable for family firms and small and medium-sized flour plant. Except grinding the mentioned grain above, some of our foreign customers use it for cassava processing and branches and leaves of plants.