Operate Flour Processing Machine Exactly
For agricultural production, flour processing machine is a good helper for getting rich. The purchasing and good maintenance are as important as proper operation use, in addition, machinery maintenance is also very important.
While, how to operate flour processing machine exactly? There are flour aspects you should pay attention:
1. Carefully read the operation instruction manual, get well understand of the flour processing machine's structure and performance;
2. Operate the machinery according to the operating instruction, and do regular scheduled maintenance;
3. It is not a multi- function flour processing machine, carrying load speed should abide by the rules. Violation operation is not allowed;
4. Once find the machine break down, immediately stop operation and check for faulty.
Staff are Showing The Operation to Customers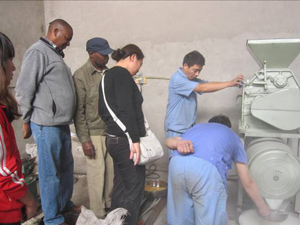 Henan Kingman M & E Complete Plant Co., Ltd (KMEC) specializing in the production of flour processing complete sets of machinery, we offer machines debugging, installation etc series of service. Ensure customer satisfaction come first, hope you can be our business partner.